2012 Leadership in Data Use Award Recipient
We are excited to announce Robert Ironmaker, Site Manager and Health Data Specialist at the Indian Health Board of Billings (IHBB), as the recipient of the Urban Indian Health Institute's 2012 Leadership in Data Use Award! As part of the effort to promote leadership and capacity building among urban American Indian and Alaska Native communities, the UIHI recognizes Mr. Ironmaker's use of agency data to better inform clients, the public, and potential funders about their services and health priorities. To recognize Mr. Ironmaker's outstanding contribution, he will receive $2,000 to fund attendance at a training or conference for professional development.
Mr. Ironmaker is responsible for managing the Walk-in Health Clinic at IHBB where he has implemented a more refined and relevant data report. Data collected through this report has helped inform and prioritize health policy at IHBB as well as assist with the development of two new proposals for youth health activities. Mr. Ironmaker has also gathered together a think tank of staff to overcome challenges. These efforts in collecting, discussing, and presenting health data have helped identify health priorities at IHBB that have resulted in expanded partnership and funding opportunities.
In her nomination, Marjorie Bear Don't Walk, Executive Director of IHBB, shared, "Mr. Ironmaker has gone to great lengths to improve not only the lives of our urban Indian clients, but our community as a whole. He encourages the staff to work as a team to provide the best care possible for our clients."
The UIHI congratulates and thanks Robert for his hard work and outstanding use of data!
To learn more about Robert J. Ironmaker, Jr., please view the following biography:
My name is Robert Ironmaker, Jr. and I am an enrolled member of the Assiniboine and Plains Cree Tribes. I am originally from the Fort Belknap Indian Reservation in North Central Montana. My reservation is located in the Great Plains region and is approximately thirty-five (35) miles from the Canadian border. My extended family and blood line includes Ironmaker, Wind Chief, Chief-Goes-Out, Little Bear & Buffalo Robe, all of whom are very honorable grandfathers, very spiritual and Sun Dance Makers. I belong to a sacred society, known as the Grass Dance Society and Painted Drum Society, which is a huge honor for me to be a part of. My family and I have been involved in pow-wow and Native American singing from inception. I am married to a very beautiful, caring person and Best Friend Cheryl Diane who is a Registered Nurse for the Indian Health Service. We make our home in Billings Montana. I work for the Indian Health Board of Billings as a Health Site Manager and I work with a very great team and Executive Director. I have been with the Indian Health Board of Billings for six (6) years now. It has always been my goal and objective "To uphold my abilities and help people in the best way that I can Through Business Innovation, Management, Project Development & Technology for Native American people."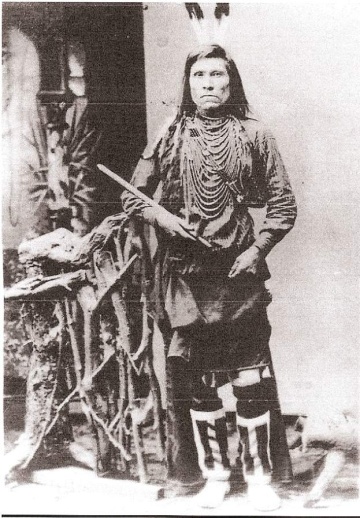 (Family photo of Mr. Ironmaker's 5th generation grandfather)