Fred Hutchinson Partners with the Urban Indian Health Institute and the NATIVE Project on HPV Vaccination Study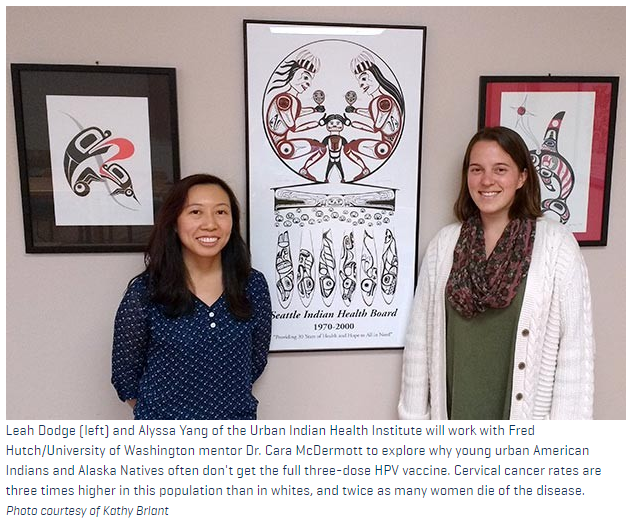 Annually, representatives from Fred Hutchinson Cancer Research Center and the University of Washington (UW) gather with organizations working to improve the health of underserved communities to provide research development assistance and support. Cancer and many other diseases tend to hit these underserved groups the hardest but it is the hope that through collaboration and by using the strengths of all the partner organizations, greater progress toward health equity can be made together.
Part of the goals of the research grant-writing workshop is to build capacity in the rigorous practice of writing proposals for academic research. This year, two UIHI epidemiologists, Leah Dodge (Little River Band of Ottawa Indians) and Alyssa Yang joined the annual health disparities research grant workshop held at Fred Hutch and were partnered with mentor, Dr. Cara McDermott, from the Fred Hutch/UW. Together Dodge, McDermott, and Yang will work to better understand issues affecting HPV vaccination rates among urban American Indians and Alaska Natives in Seattle and Spokane in partnership with the NATIVE Project.
For more information on HPV vaccination and cervical cancer, the workshop and the new collaboration between UW/Fred Hutch, UIHI, and the NATIVE Project, read the Fred Hutch news article.